■Like a Magic■ Car Glass Coating "Bliss"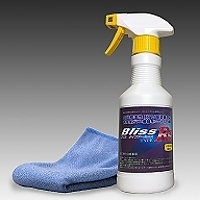 Content quantity in a bottle: 240 ml (12 times usage for a car)
Applicable for all colour
Hydrophobic coating
Delivery of scope: Bliss and microfiber cloth
What is Car Glass Coating?
You will get shine and scratch protection on your car with an amazing cost saving. And you do not need to apply car wax with a lot of effort. Can you believe it?
Glass coating is the new concept of car maintenance in the US market, and it is getting popular in European and Japanese market as well.
The reason for the popularity is the technology the glass coating has.
Liquid glass and other ingredients allow your car to protect from any situations such as bird droppings, scratches, dust and the other things, which car wax has not been able to do so far.
And it is noticeable to know the durability: 12 months!

How to use Bliss?
 


1.Clean the surface of the car by washing it carefully and leave the surface wet.



2.Stir the coating ingredients by shaking the bottle, then spraying"Bliss" on each part of car with the car body wet.




3.Spread "Bliss" with sponge.




4.Water on the car again, then wipe it out with a soft cloth such as microfiber cloth.



You will find a lustrous car body after that. You will see such a
smooth surface of the car 7 days after you have applied!







■ Tips
Make sure to clean the surface of the car. If not, it will be coated/covered by "Bliss". (Please note that it is difficult to remove Bliss!)
Make sure to shake the bottle "Bliss" before applying.
Do not work under conditions such as direct sunlight or surface of bonnet in high temperature.
Wash car body if you find bird drops in the first 7 days after applying.


■Which parts are coated?
All exterior parts of car! such as plastic, carbon fibre, tires and aluminium wheels.
■FAQ
Q.How much of "Bliss" should be applied?
  If you see the car body is not clear after work, it will be recommend to wash the car with car shampoo and wipe it out.
You might apply lots of "Bliss" on the car body, It is the reason for the blurs.
It is good enough to spray 1-push on each door and 5-push on bonnet for the medium class car.
If you apply it frequently, the car body will be getting more lustrous.


Q.Can "Bliss" work on aluminum wheel?
Yes, it can. After applying, you will be surprised to see the wheel is kept clean with small amount of brake dust after driving, And it is able to wash it off easily.
Q.It is found a blur on the surface, which looks like oil on the car body after applying "Bliss". How can I remove it?
  The reason is you don't stir "Bliss" ingredients before applying.
"Bliss" has three-layer of solvents, and if you don't shake the bottle enough, solvent like jelly is left at the bottom of the bottle. You don't need to worry about that, it can be removed easily by washing with car shampoo.


Q.Why should I spreading it with sponge after spraying?
 Because it is an economical reason. Small portion of "Bliss" is good enoigh.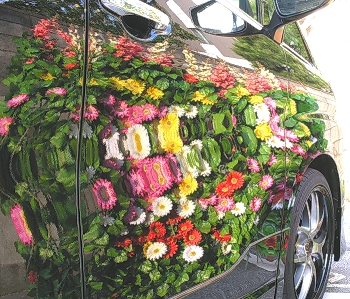 Make sure of following these guidelines when you apply "Bliss". Tight the cap firmly by twisting after the work.
If you have allergic reaction to chemical products or have sensitive skin, do not forget wearing rubber gloves.
Do not Keep "Bliss" in high temperature or under direct sunlight. Avoiding applying on a strong windy day.
Keep "Bliss" out of the reach of the infants and children. If accidentally "Bliss" enters the eye, wash the eye immediately and
go to hospital. If accidentally swallowing Bliss, drink a couple of milk or water immediately and go to hospital.
Ingredient : Polydimethylsiloxane,silica,Hydroxypropylmethyl Cellulose,Polyisobutylene and others
First Aid Measures
Inhalation:
Not expected to require first aid measures. Move to a location with fresh air. Get medical attention for any breathing difficulty.
Ingestion:
Not expected to require first aid measures. If large amounts were swallowed, give water to drink and get medical advice.
Skin Contact:
Not expected to require first aid measures. Wash thoroughly with running water. Get medical advice if irritation develops.
Eye Contact:
Immediately flush eyes with plenty of water for at least 15 minutes, lifting upper and lower eyelids occasionally. Get medical attention if irritation persists.
Produced in Japan
Bliss Japan Company
1-10-19 Koshigaya,
Koshigaya-Shi,
Saitama-Ken
343 0836
JAPAN